Jio killer? BSNL offers whopping 300GB of data at Rs 249 per month!
State-run telecom operator BSNL has now announced a new broadband plan – 'Unlimited Broadband at Rs 249' – which will offer almost 300GB of data per month, at the cost of Rs 249. This translates to 10GB of data, per day. Additionally, the plan also offers unlimited night calling (9PM – 7AM) and unlimited calls on Sunday.
For the price, you will get a speed of 2 Mbps speed up till 1GB and beyond that limit; the speed will drop down to 1 Mbps. You will also get an unlimited upload and download limit per month. "BSNL is the only operator that is offering cheapest 10 GB per day data download plan under Wireline Broadband services in the country," the company said in a statement.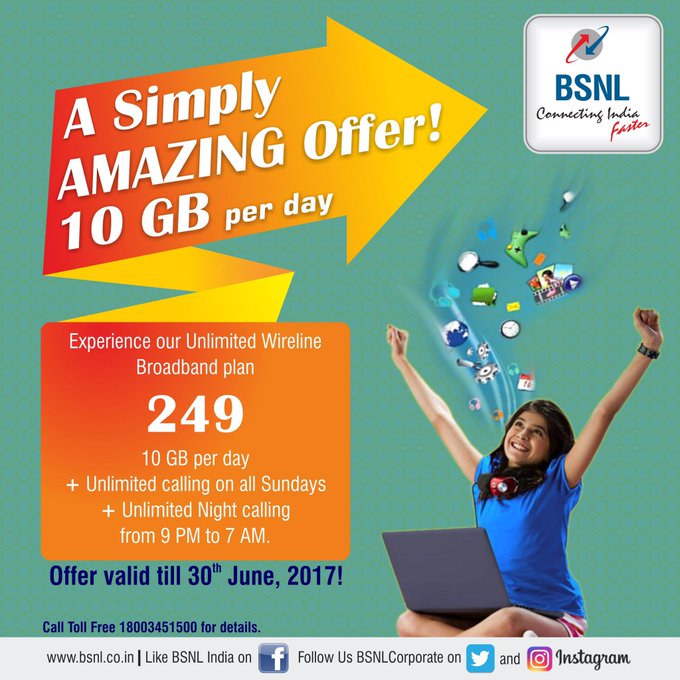 New Broadband connections can be subscribed by visiting nearest BSNL customer service center or by calling toll free number- 1800 345 1500.
Few days ago, BSNL stated that it will offer 1 GB of free data to smartphone users who have a BSNL connection but are not using the company's data services. BSNL said it has "decided to give a special free offer for smartphone users to promote digital India drive and to increase internet users in prepaid mobile services". The offer would be available on a pan-India basis, it added. "On pan India basis, BSNL offers 1 GB free data for the smartphone users who are not using BSNL GSM data services. The intention of this offer is to promote number of internet users in BSNL network."
Source by:-dnaindia
Share: