Everywhere You Can Get Free & Cheap Cheesecake for National Cheesecake Day
Cheesecake might not be a food you think about often. It fits in the "oh, yeah" category of food. That's because if you were asked to list your favorite sweets, you might start listing some well-known favorites like cupcakes, ice cream, or candy bars. Then there's a whole pile of desserts the questioner might throw at you that you didn't think about, but still like. Carrot cake? Oh, yeah. Gummy bears? Why not? Cheesecake? Oh, yeah.
Well, there's a whole day dedicated to bringing cheesecake out of the shadows and into your mouth. Tuesday, July 30 is National Cheesecake Day and restaurants across the nation are dishing out free or discounted cheesecake all day long, which deserves a totally different kind of "oh, yeah." A Kool-Aid Man "oh, yeah!" Check out the deals below to see how you can get cheesecake from local restaurants and national chains like The Cheesecake Factory, White Castle, and more.
Free Food on National Cheesecake Day
White Castle
The deal: Check the "value offers" page at the chain's website or its social media channels to find a coupon for a free cheesecake on a stick with any purchase in honor of National Cheesecake Day. It's like a mini State Fair in your mouth.
When: July 30
Maggiano's Little Italy
The deal: Everyone is getting a free slice at Maggiano's. Buy an adult entrée and you'll get a slice.
When: July 30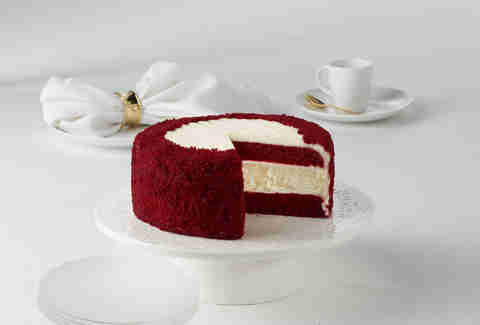 Food Deals on National Cheesecake Day
The Cheesecake Factory
The deal: All dine-in guests can get a slice of cheesecake for half-price on the holiday designed for The Cheesecake Factory.
When: July 30
Junior's Restaurants
The deal: The restaurant has a couple of deals rolling for the holiday. Get a $5 slice of cheesecake with a lunch or dinner entrée or $5 off a whole cake in the bakery.
When: July 30
Junior's Restaurants
The deal: The other big deal running is on purchases through the restaurant's website. Find whole cheesecakes starting at $24.99 and get $5 off all full-price cakes.
When: July 29 – August 5
Instacart
The deal: It's not cheesecake, but it's still a damn good treat. Pick up $15 worth of select combos of Haagen-Dazs, Edy's, Deyer's, or Outshine to get $5 off your order or free delivery.
When: Through August 4
Wahoo's Fish Taco
The deal: A new partnership with the Orange Country Transportation Authority can land you a free taco. Show a valid OC Bus, OC Flex, or Metrolink pass to get a free taco with the purchase of a taco.
When: Tuesdays all summer
Local Food Deals on National Cheesecake Day
Eileen's Special Cheesecake – New York, New York
The deal: Take 50% off any one cheesecake item purchased in-store.
When: July 30
Pinstripes – Cleveland, Ohio
The deal: To celebrate a full year in Cleveland, Pinstripes is offering any guest who mentions the anniversary a $1 glass of wine or a $1 scoop of gelato.
When: Through July 31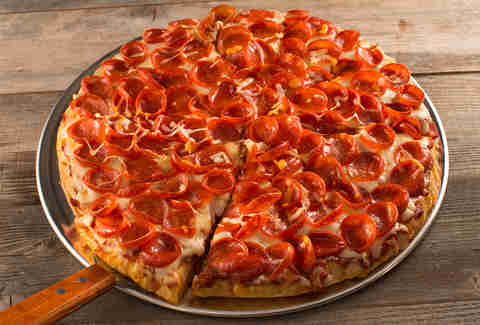 Other Deals on National Cheesecake Day
Bertucci's Brick Oven & Pasta
The deal: Buy any large pizza, and get a free large cheese pizza. The deal is available for dine-in and carryout.
When: Tuesdays starting June 4
Applebee's
The deal: The chain's Neighborhood Drink of the Month for July is a Malibu. You can get one for just a dollar every day this month.
When: Through July 31
Burger King
The deal: The fast-food chain is now serving Crispy Tacos for just a buck.
When: For a limited time
Wendy's
The deal: For its Baconfest, Wendy's is offering a free Jr. Bacon Cheeseburgerand free delivery when you place a $10 order through DoorDash and use the code "BACONFEST."
When: Ongoing
Buffalo Wild Wings
The deal: Every Tuesday, it's BOGO traditional wings for Wings Tuesday, which it recently brought back.
When: Ongoing, every Tuesday
Chili's
The deal: Michael Scott's favorite place to do business has a new Margarita of the Month. The Southern Back Porch 'Rita — Southern Comfort, Lunazul tequila, mango puree, fresh sour, and unsweetened tea — will be available for $5 all month.
When: Through July 31
Grimaldi's
The deal: Throughout July, Grimaldi's will be offering a Lunar Landing Shandy to celebrate the 50th anniversary of the moon landing on July 20. The drink includes Blue Moon, Sierra Mist, lemonade, and fresh lemon juice. It'll run you just $6.
When: July 1-31
UNO Pizzeria & Grill
The deal: Order one of five UNO Signature pasta entrees and you'll get the option to take home an order of pizza or one of three pasta dishes for free.
When: Through the end of the summer
Islands
The deal: Use this coupon to get $5 off a purchase of $25 or more. Use it to celebrate whatever food holiday — real or otherwise — you choose.
When: Through July 31
Cumberland Farms
The deal: Every location is offering a small or large Chill Zone beverage or the frozen Hyperfreeze for $.79.
When: Through September 3
Source:- thrillist
Share: